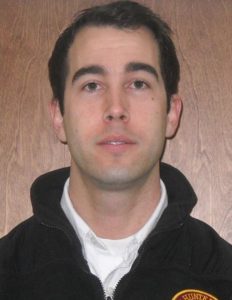 Dennis Dougan, Paramedic
Dennis Dougan was hired as an EMT on December 15, 2008. While working for Hunter's, Dennis continued his education by going to Paramedic school. In November 2011, Dennis was granted his Connecticut State Paramedic license, then obtained his medical direction in January 2012.
Dennis is a solid Paramedic who exercises self-control and solid scene management, bringing calmness to the most chaotic scenes. Dennis has been able to pass some of this along through his precepting of new Paramedics. We have received positive feedback from those he has mentored and evaluated through the process.
Dennis has had several commendations from the public. Here are a couple of excerpts:
"We would like to thank you very much for all that you did for my brother-in-law."
"The treatment (both physical and emotional) that we received from the Hunter's Paramedics was exceptional! These Paramedics provided us with the expert care while also keeping us informed of our situation."
"Being from out of state with no family or friends close by, the smart thinking of this team was a comfort and a true blessing."
"You have two of the finest human beings working for you, and I just wanted to take a moment to tell you how much we all appreciate them in their kind heartedness."
"Your crew should be complimented for the manner in which they performed, especially in the face of a very difficult task."
Dennis is a fantastic representative of what EMS is about and we are proud to have him as part of our team.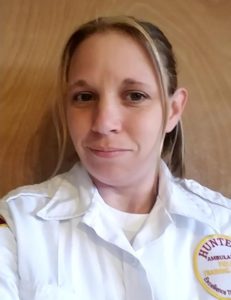 Heather Roy, EMT Field Training Officer
Heather Roy is the epitome of the axiom "don't judge a book by its cover." Heather is a "pint size" provider that out-performs her larger size peers.
Heather was hired in September 2006 within our Special Transportation Division transporting students with special needs. In March 2007, she transferred to the EMS Division as an EMT. Heather excelled in this position and has great respect for her peers, partners, hospital staff, and fellow first responders.
Heather is truly a patient advocate. She surfaces issues for patients that may not be of a medical nature, but are impacting their quality of life, so that they can be addressed.
Always willing to improve herself through reflection after each call she completes, she was the perfect candidate for a Field Training Officer position. Heather has great interactions with the new employees she is assigned. In particular, because of her solid technique, Heather has become the company's "lifting guru" for any new employee needing additional lifting assistance in this area.
Heather has also recently accepted and trained to become one of Hunter's first Certified Car Seat Technicians. She provides proper installation and instruction of car seats for those in need in our community.
Heather is a positive role model for our EMS staff and a great advocate for our organization.