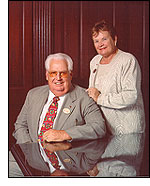 Pictured here are Hunter's Ambulance Service, Inc. founders, Vern A. Hunter, President and CEO, and his wife Barbara M. Hunter, Vice President. Mr. and Mrs. Hunter were truly pioneers in the ambulance industry and contributed greatly to the established pre-hospital health care standards we know today.

Since 1963, Hunter's Ambulance Service has provided Central and Eastern Connecticut with unparalleled patient care and transportation services. With a staff of over 450 highly trained professionals, Hunter's stands ready to meet the varied transportation and pre-hospital patient care needs of individuals and communities. While its fleet and variety of services have grown, Hunter's commitment to quality and concern have never wavered.
Hunter's Chronicle
1963

Vern and Barbara Hunter founded Hunter's Ambulance Service (Established with one 1953 Cadillac Ambulance).

1964

Completion of first Ambulance American Red Cross Course.

1965

Completion of National Ambulance Training Institute Course in Westfield, MA.

1969

Completion of first National Ambulance Training Course.

1971

Vern Hunter Graduated from first EMT Course in Connecticut.
Appointed to the 25 member CT Ambulance Advisory Board by both Governor Meskill and Governor Grasso.

1974

Purchased First Invalid Wheelchair Vehicle.

1975

Completion of first Advanced Driver Training Program held in Connecticut.

1976

Purchased Kamens Ambulance Service of Meriden.

1980

Became one of the first EMT-IV Technicians in Connecticut.

1983

Hunter's Ambulance Service advanced to the Paramedic certified level.
Vern Hunter, first recipient of the Dr. A.E. Hertzler Knox Award for Excellent Contributions to EMS in Connecticut, purchased Mayfair Ambulance Service Company in the Wallingford area.

1986

Became the Emergency Medical Provider for the town of Berlin.

1989

Purchased Professional Ambulance Service in Middlesex County.

1990

Purchased Professional Limousine Service to establish Hunter's Limousine LTD.

1994

Acquisition of Medi Transit Wheelchair Service in New London County.

1995

Established Hunter's Special School Bus Transportation Division.
Purchased Gary's Livery Service in New London.

1996

Mayor Joseph Marinan declared December 9, 1996 as Vern Hunter day in the City of Meriden.

1997

American Ambulance Service Amby Award, the Nations highest community service award, was awarded to WEB-SAFE KIDS Interactive Internet Safety Program.
Acquisition of Southern New England Limousine Service.

1998

Primary daytime ambulance service partnership with Cromwell Connecticut Fire District.

1999

Acquisition of Theo 's Transportation in Hamden
Opened an 11,000 sq. ft. Training & Vehicle Maintenance Center.
Acquisition of Compass Limousine Service in Wallingford.

2001

Purchased new base location in Berlin.

2002

Acquisition of Tours Limousine Service in Cheshire.

2003

Celebrating 40 Years of Service.

2008

Celebrating 45 Years of Service.

2010

Adopted the Employee Stock Ownership Plan (ESOP) becoming the first EMPLOYEE OWNED ambulance company in the State of Connecticut, and second in the United States.
Awarded Accreditation as an Emergency Dispatch Center of Excellence by the International Academies of Emergency Dispatch. Only the 147th center in the world to be awarded this highest distinction.

2013

Celebrating 50 Years of Service.

2014

Awarded Re-Accreditation as an Emergency Dispatch Center of Excellence by the International Academies of Emergency Dispatch.

2015

Hunter's Ambulance and Protein Sciences announced the launch of their new wellness initiative, "Healthy Choices" Mobile Flu Vaccine Clinic, as of January 2015 that provides affordable, easy access to Flublok influenza vaccine to people in Connecticut.