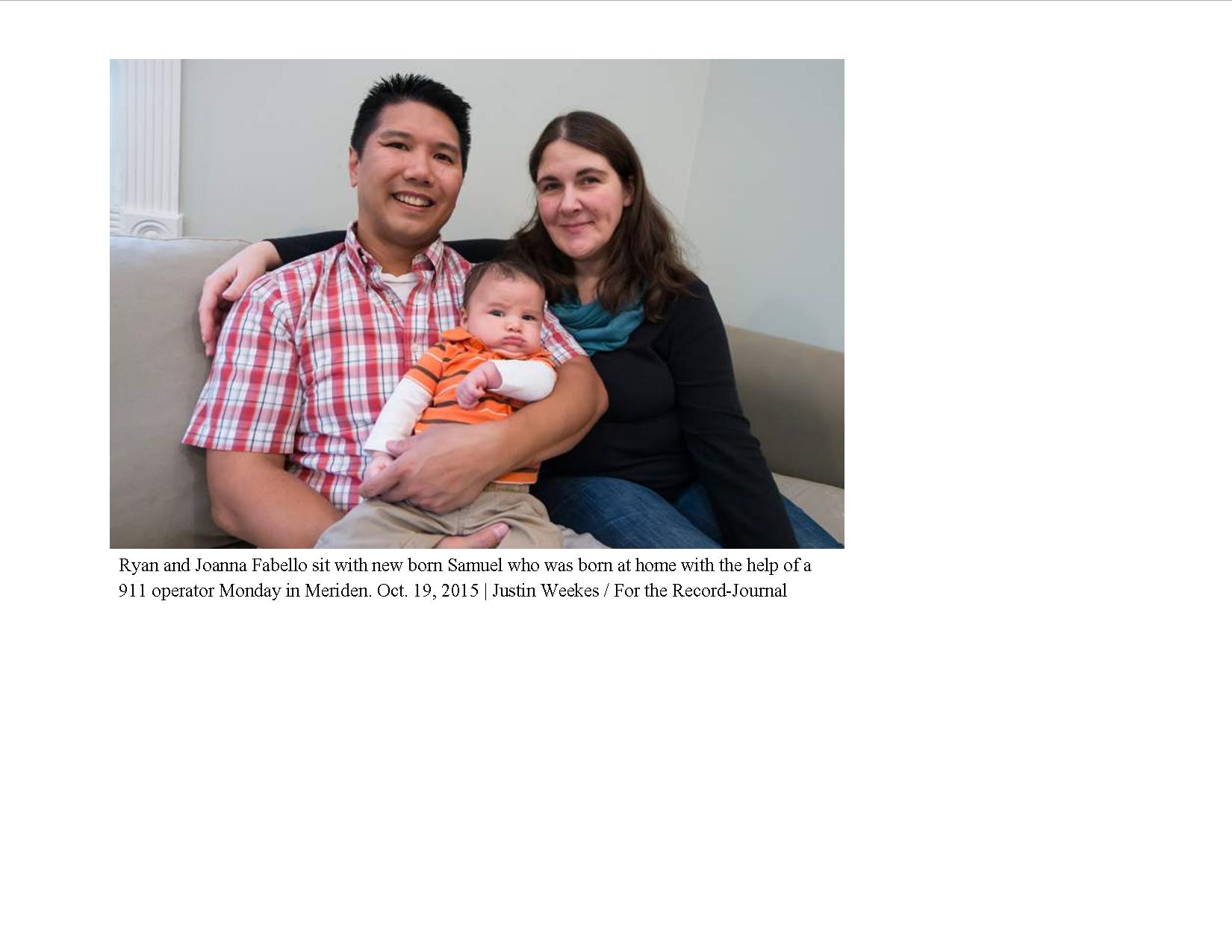 Published: October 20, 2015 | Last Modified: October 20, 2015 05:36PM
By Andrew Ragali Record-Journal staff
MERIDEN — While preparing for the birth of their third child in August, city residents Joanna and Ryan Fabello thought they knew what to expect.
"My wife had expectations of how things were going to go because she went through child birth two other times," Ryan Fabello said.
Joanna Fabello's water broke at the hospital before the birth of her first two children. But just after 2 a.m. on August 22, near the end of her third pregnancy, her water broke at home. Initially, the couple wanted to drive to the hospital, Ryan Fabello said, but it was too late, as his wife was already in labor. He called 911 knowing they wouldn't make it to the hospital.
Tara Feher, an emergency medical dispatcher with Hunter's Ambulance Service, answered the call. She guided Ryan Fabello over the phone while his wife birthed a baby boy.
On Saturday, Feher, of Waterbury, was among a group of public safety workers honored during the annual Family Health, Wellness & Safety Expo hosted by the Midstate Chamber of Commerce. A police lieutenant, fire captain, paramedic and three good Samaritans were also recognized during the event, held at Westfield Meriden mall and sponsored by the Meriden Elks, Kiwanis and Rotary clubs.
"It really was an honor to have that bestowed on me," Feher said.
After the baby boy, Samuel, was successfully delivered, Feher hung up the phone and moved on with her job, said David Lowell, executive vice president and chief operating officer of Hunter's Ambulance Service. But to Feher's surprise, Joanna and Ryan Fabello attended the awards ceremony with Samuel after receiving a last minute invitation from Lowell. The dispatch audio was played during the ceremony, and Feher could be heard calmly giving Ryan Fabello directions on how to deliver the baby.
"We were curious as to who she was," Ryan Fabello said of Feher. "It was actually great she was being recognized. It was definitely nice to put a face to the voice."
Feher was brought to tears when she met the Fabello's Saturday. While she appreciated the recognition, Joanna Fabello deserved the credit, Feher said.
"To see that baby, it was a culmination of all the years," she said. "It makes it all worth it."
After leaving the Navy in 1998, Feher worked as an emergency medical technician with Hunter's until 2007, when she injured her back and moved to dispatch. Feher said emergency personnel across the city deserve credit.
Tom Anderson, a paramedic and shift commander with Hunter's, was recognized for his professionalism, poise and courage. He began his career with Hunter's in 1996. In 2012, he advanced to the role of shift commander. Over the past 18 months, Anderson has responded to a series of traumatic incidents, including several fatal car accidents. Even though Anderson was surely impacted, Lowell said, he always checked on his co-workers first.
The awards ceremony has been held annually since 2009, Lowell said. Firefighters, police officers and dispatchers are nominated by their superiors and coworkers. Good Samaritans "come to our attention naturally from the different calls we get involved in" and through the community, Lowell said.
nstructor, DARE instructor and school resource officer. In 2012, he took over command of the Neighborhood Initiative Unit, a community policing effort.
"He goes way above and beyond," police spokesman Sgt. Darrin McKay said of Lespier. "He has a commitment to the agency and the community he serves."
Lespier attends community meetings four to five nights per week aside from working his regular shift.
"People love working for him, all the schools love him," McKay said. "He just does a great job supervising and being a liaison for the department."
From the city's fire department, Capt. Scott Harris was honored for his efforts during a medical call in June. Harris, a 25 year veteran, serves as the leader of Station 4, Fire Chief Ken Morgan said.
On June 5, Harris was on Engine 4, the first engine to arrive to a medical call on Interstate 91. A woman from Massachusetts was driving her three young children to a graduation ceremony in New York City when she began feeling ill. At the scene, Harris spoke to the woman, who had to be hospitalized. She told him that she was worried about leaving her children with a stranger while in the hospital. Harris decided to help, and with permission from the assistant chief, he drove her car and children to MidState Medical Center so they could remain together. Harris remained at the hospital, and his wife joined him to help out. Meanwhile, the woman's husband was still at work in Massachusetts, and with only one car, he was forced to take the train from Boston to New Haven with no connection to Meriden.
At about 9:30 p.m. the same night, Harris drove to New Haven while his wife watched the children. Harris picked up the husband so he could be with his family. In addition, he bought the children dinner.
"He went above and beyond what he had to do as a company officer," Morgan said of Harris. "He exemplifies what it means to be a firefighters."
Tyler White was awarded the Good Samaritan Award after he saved the life of an unconscious man he found lying on West Main Street in July. White, an Eagle Scout, immediately called 911 and opened the man's airway until help arrived. The man had suffered an overdose, and White's actions saved his life, Lowell said.
Yatzajira Caballero, a 2014 Maloney High School graduate, received the Good Samaritan Award for her work with the city Health Department's Meriden Action Research program. As a high school student, Caballero conducted research on substance use and abuse among city teenagers. After high school, she continued working with the research program as a mentor and remains involved in the city's Choice Neighborhood Task Force.
Krystle Blake, chair of the Meriden Healthy Youth Coalition, also received the Good Samaritan Award. As the coalition's chair, she is responsible for planning and coordinating programs to reduce youth substance abuse in Meriden. Blake, who works at Rushford in Meriden, also facilitates forums for parents on a variety of topics, such as internet safety and underage drinking. She has served as an advisor to high school students in the city's Students Against Destructive Decisions chapter since 2009, and is also involved with various other city organizations that support local youth.
aragali@record-journal.com 203-317-2224 Twitter: @Andyragz
---
Comments: